JURA - THE CRADLE OF HOROLOGY
In the late 17th Century, farmers started making watches during the winter's low season for financial sustenance. It was here, in the Swiss Jura Valley, that became the cradle of horology. Since then, farmhouses were transformed into high-end ateliers that mastered the craft of watchmaking and kept traditions alive by establishing factories and workshops throughout the region. Inheriting this region's 200 years of technical expertise, AVIATOR elite watchmaking masters continue to set new limits in innovation. Producing robust collections of fine watches, each model is designed and engineered with superb materials and unprecedented craftsmanship.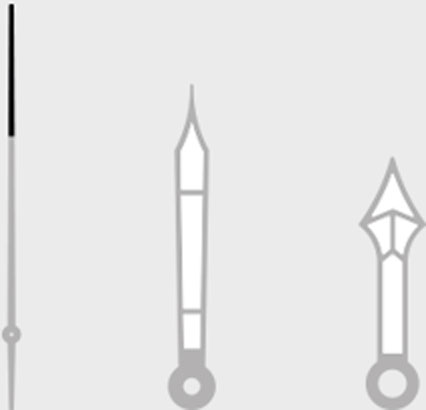 PRODUCTION PROCESS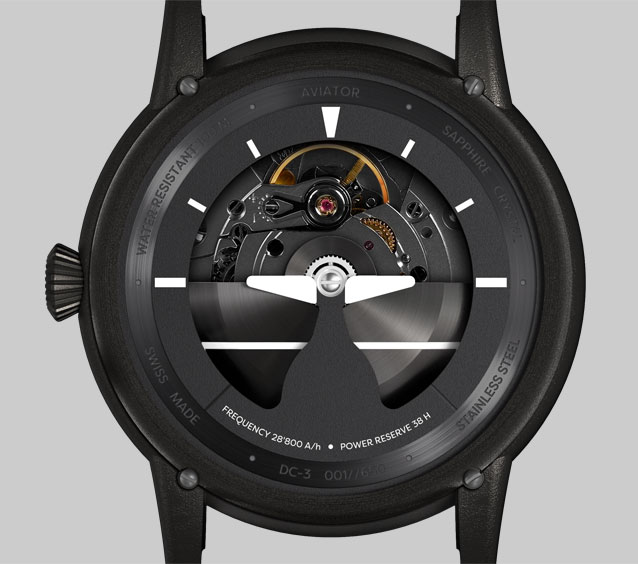 PRODUCTION OF COMPONENTS
Compromised of up to 200 micro parts, each AVIATOR watch is intricately designed and assembled with premium materials and components that are imperative to fit and functionality. Together, creating the best modern day pilot's watch.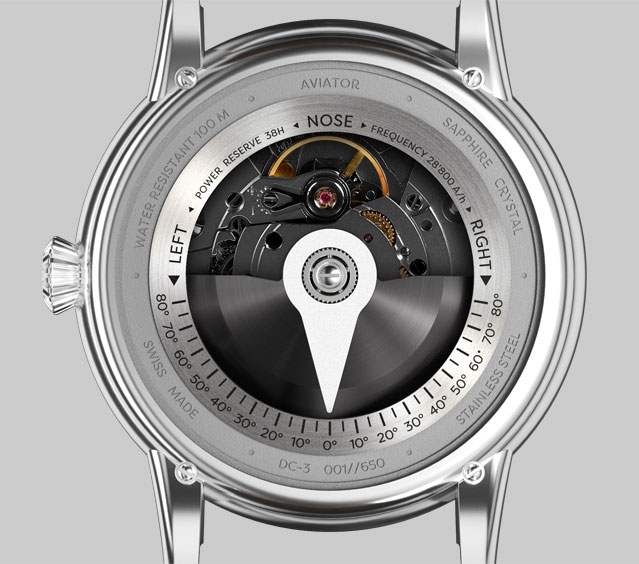 DIAL
First impressions are made by glancing at a watch's dial. Representing the face of a watch, the dial requires precision and a strict attention to details. All AVIATOR dials not only impress with their cockpit-styled features, but with their numerous apertures, subtle finishes, distinct patterns, and handcrafted metal indexes. As for legibility, each watch meets the highest standards and also features Superluminova material on indexes for visibility in any condition or time of night.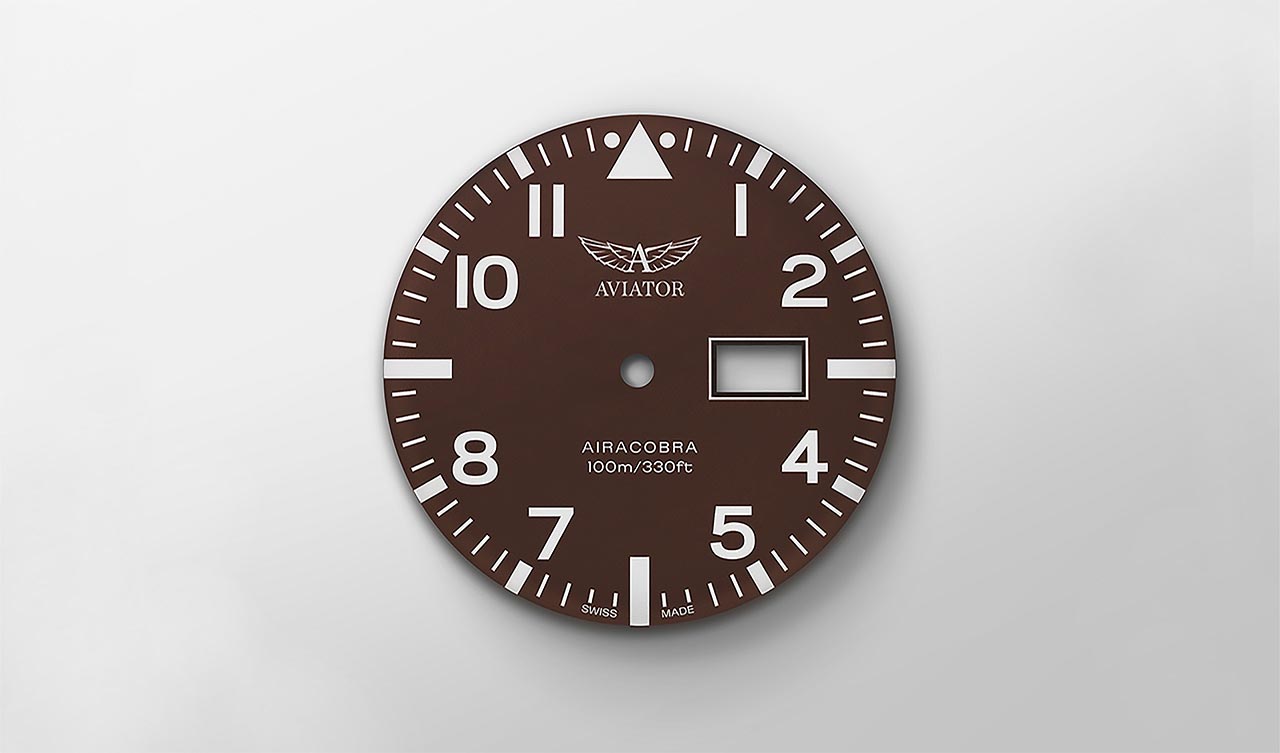 HANDS
More than twenty manufacturing steps must be made to ensure superb quality hands on an AVIATOR timepiece. Among the most important operations during this process include stamping, drilling the cannon hole, cutting the hands by different techniques, as well as shaping the head and hand's body. Made from metal strips, the hands are polished, then given a galvanic bath for coloration, and finally a luminescent coating is applied for a daytime shine and evening glow. Once the hand is designed, it undergoes a rigorous quality control before being assembled onto the face.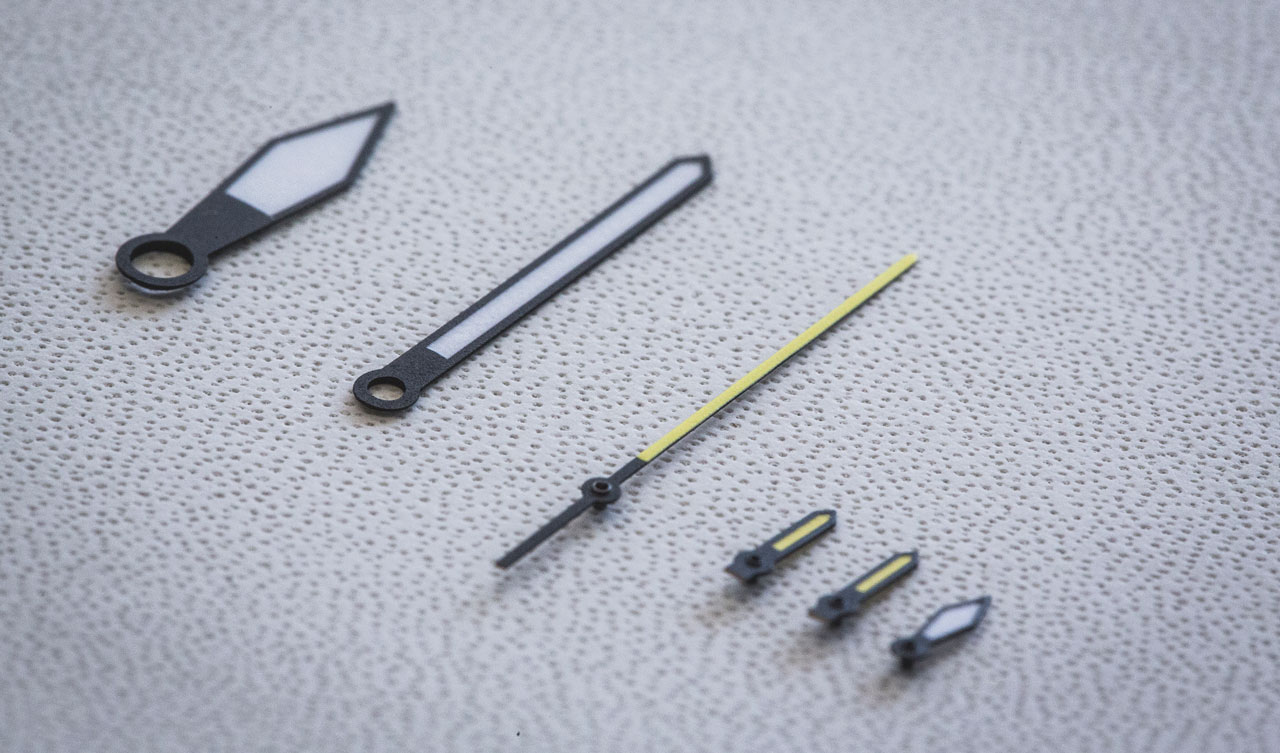 CASE
All AVIATOR cases are designed and developed to withstand the most extreme conditions professional pilots face inflight. Each case is made from premium 316L anti-magnetic stainless steel alloy and is at least 100 meters water resistant. The case withstands rigorous itineraries with its ergonomic styling. Also, it takes up to 40 operations in stamping, lancing, and blanking to the highly precise machine piercing to die cut each detail. High-end subtle finishing such as polishing, satin-brushing or bead blasting put the finishing touches on every case.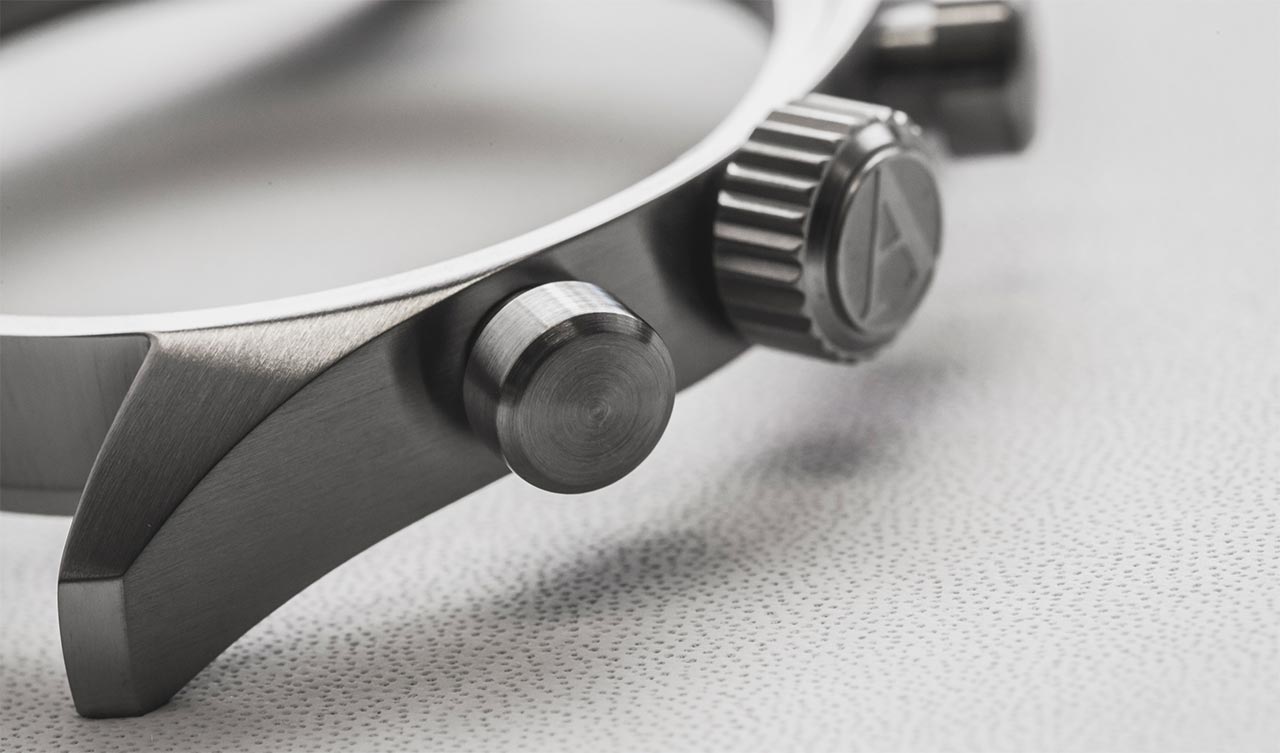 STRAPS & BRACELETS
Individually developed to share the spirit of the collection, all AVIATOR straps are crafted from premium materials and have undergone an extensive tanning process to enhance suppleness. Meanwhile, all metal bracelet straps are made of premium 316L stainless steel alloy and fitted with stamped clasps and solid end pieces to provide rugged durability. Selected models are enhanced with easy-locking buckles that fasten with one click. Whichever strap you choose, AVIATOR ensures perfect comfort and ergonomics on your wrist.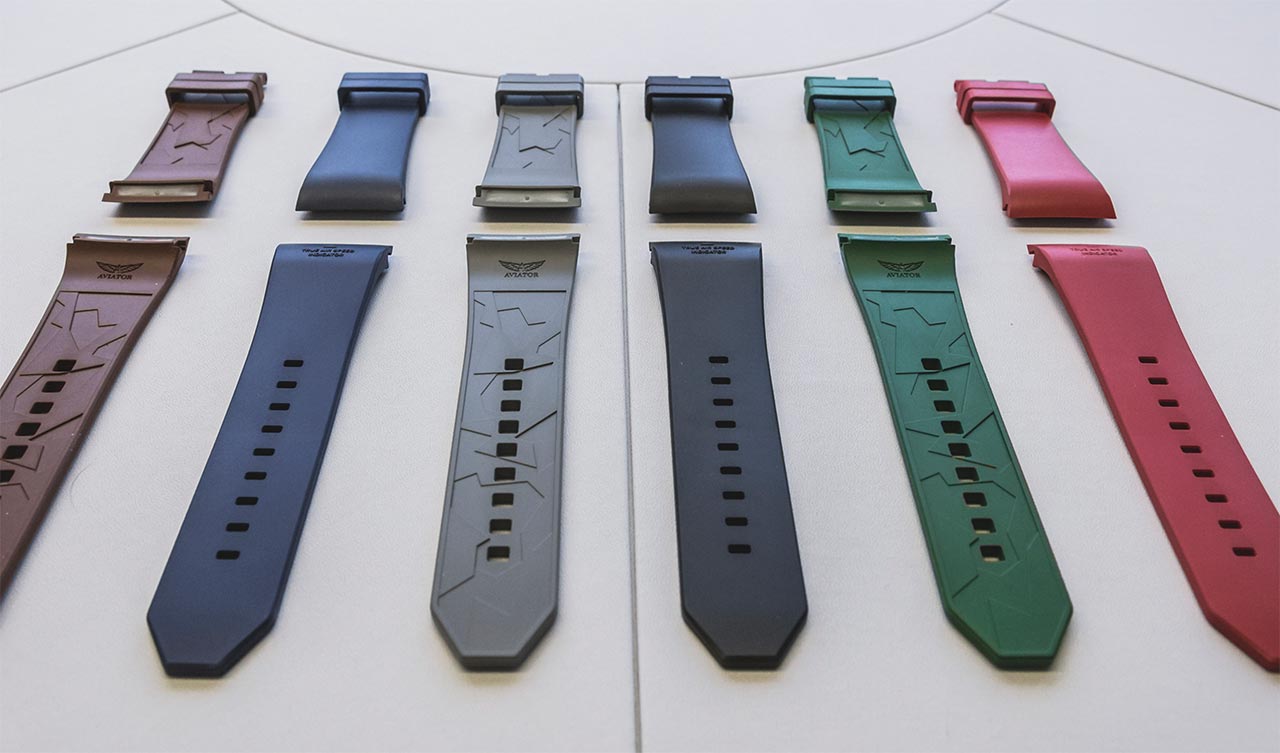 MOVEMENT
What makes a watch tick is its movement. It is the heart of a watch and it keeps a steady pace like the propeller engine of a plane. Only the highest quality Swiss-made movements are used for AVIATOR watches, offering a wide array of functionality, from minimal time and date functions to the multi-functional chronograph movements. Besides superb functionality and trusted performance, each movement also features a shockproof protective system to withstand extreme conditions. To regulate quality, each movement undergoes rigorous testing to ensure flawless performance and precision standards.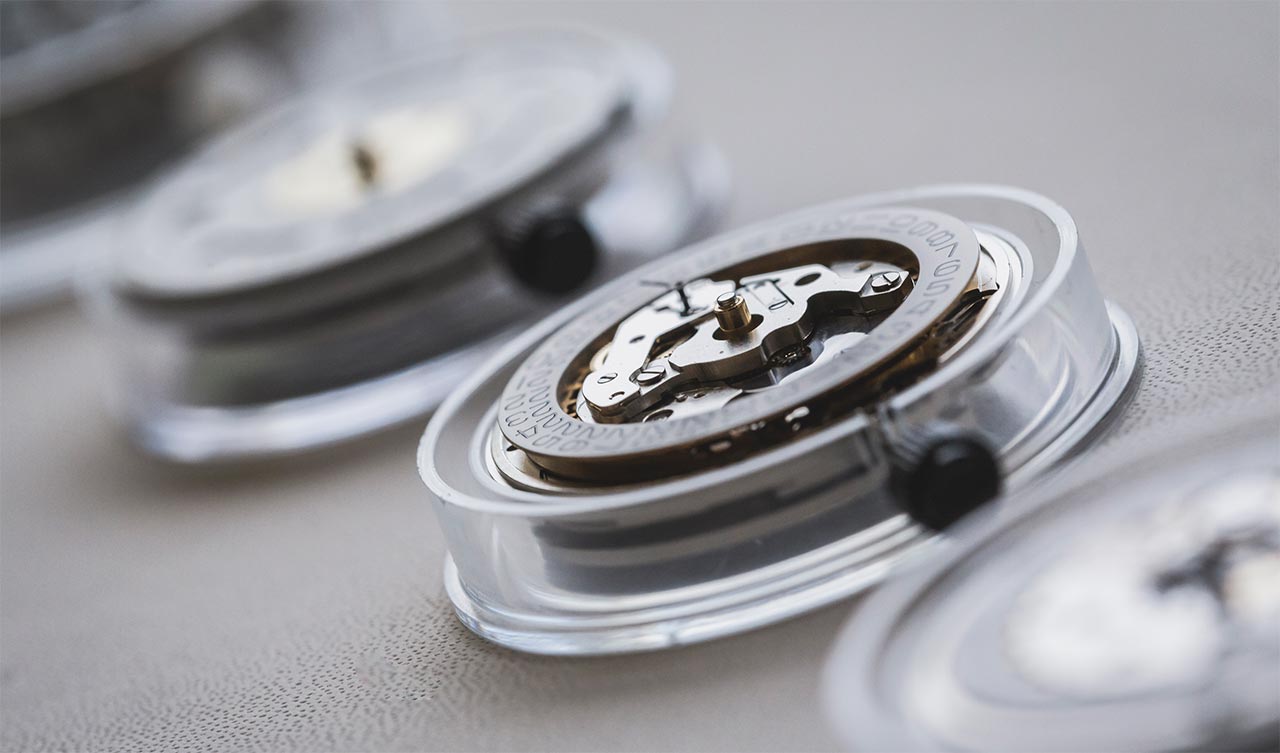 SWISS SUPER-LUMINOVA
Offering the highest possible afterglow performance, Swiss Super-LumiNova® pigments are the premier choice of the Swiss watchmaking industry. 100% Swiss-made, it is non-radioactive, REACH compatible, highly temperature resistant and resilient to environmental factors, withstanding the effects of fading or aging over time. Chargeable with sunlight or artificial light, Swiss Super-LumiNova® is applied on dials and hands for full night legibility according to ISO 3157 standards.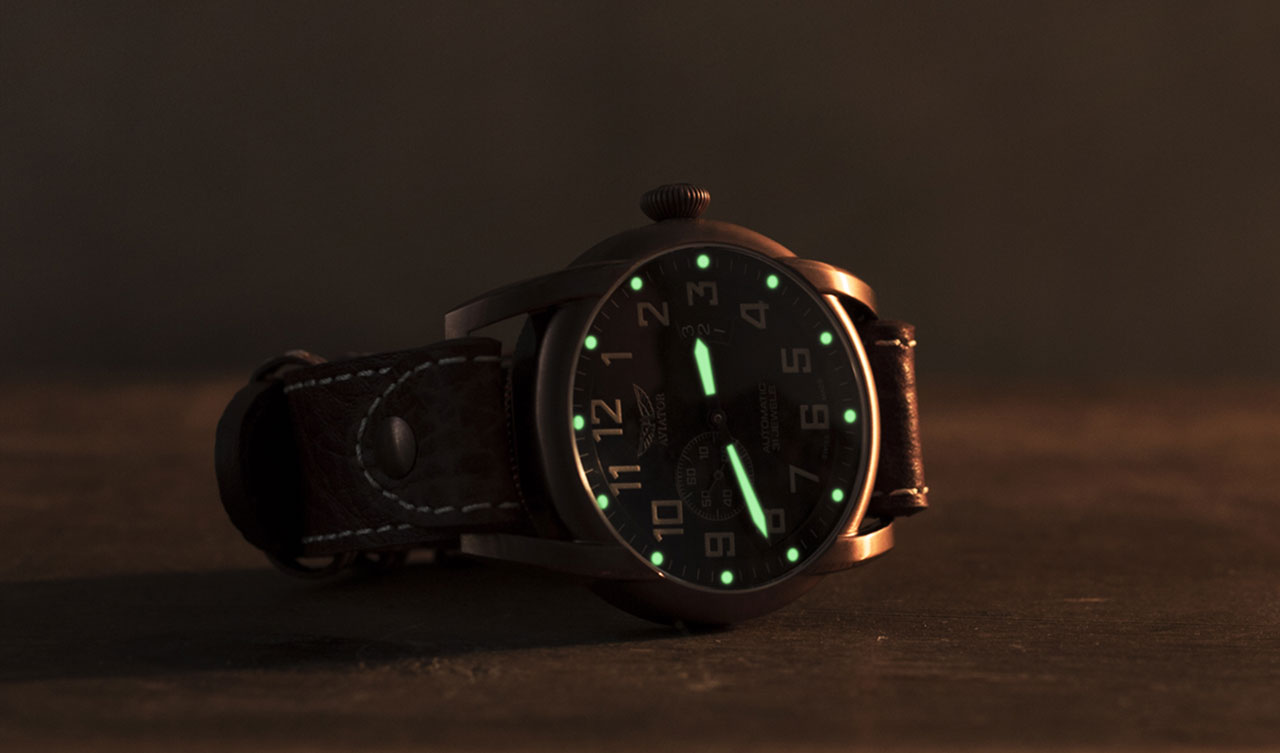 SAPPHIRE CRYSTAL
Made of crystallizing pure aluminum oxide at very high temperatures, synthetic sapphire has the same hardness as natural gemstones, yet without the coloring agents. Sliced into pieces with diamond-coated saws, these disks are then ground and polished and undergo a highly elaborate glare-proofing treatment on both sides to eliminate 99% of the reflections perceived by the human eye. Since natural and synthetic sapphire is one of the hardest substances on earth, measuring at 9 on the Mohs scale, they are also scratch resistant. Only a diamond, which measures at 10 on the Mohs scale, is more durable than the sapphire crystal glass that covers the face of each timepiece.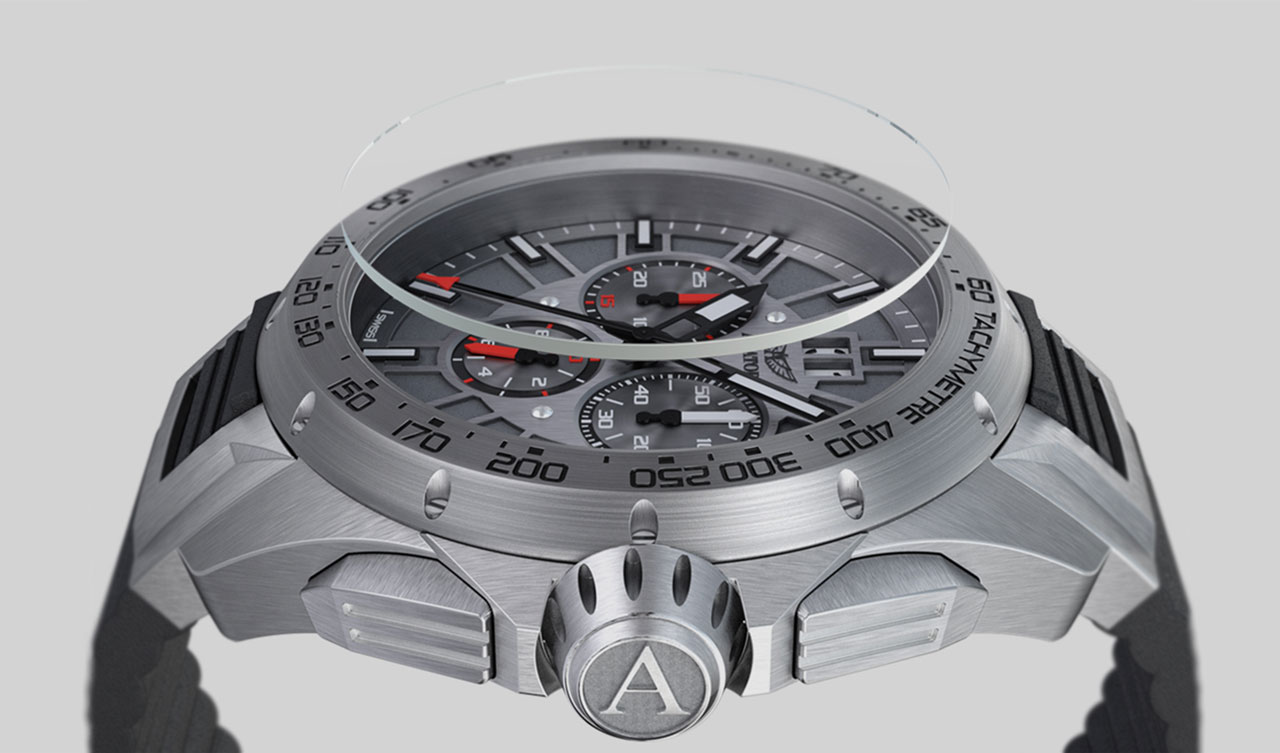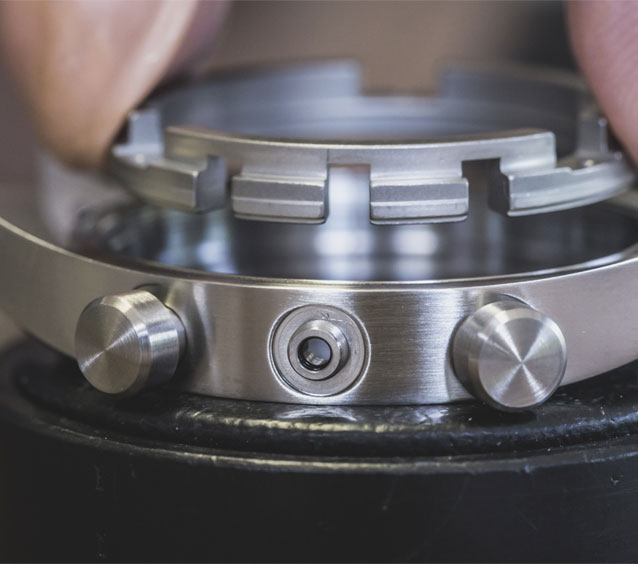 ASSEMBLY
Each watch is carefully assembled with quality and care at every step. First, the dial is fixed to the movement, the hands are individually placed on the arbors and centered for alignment. Next, this movement dial and hand unit are firmly fitted inside the case. The crown is inserted and the movement is secured. Then the oscillating weight is put in place with screws. Finally, the case back is machine-locked before it gets passed to the quality control department.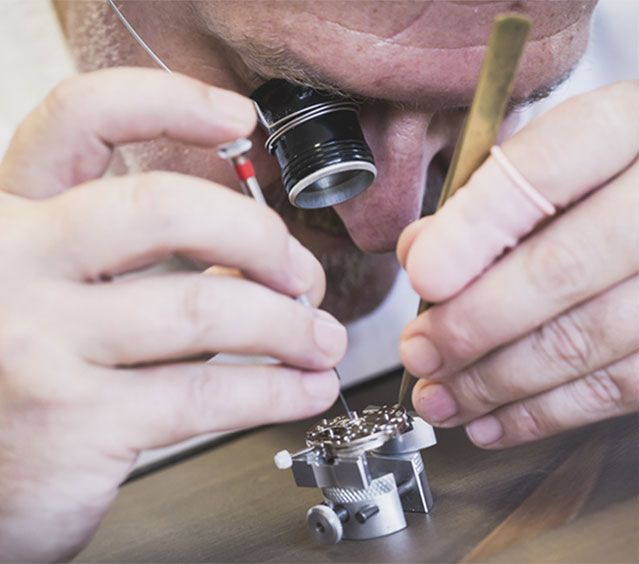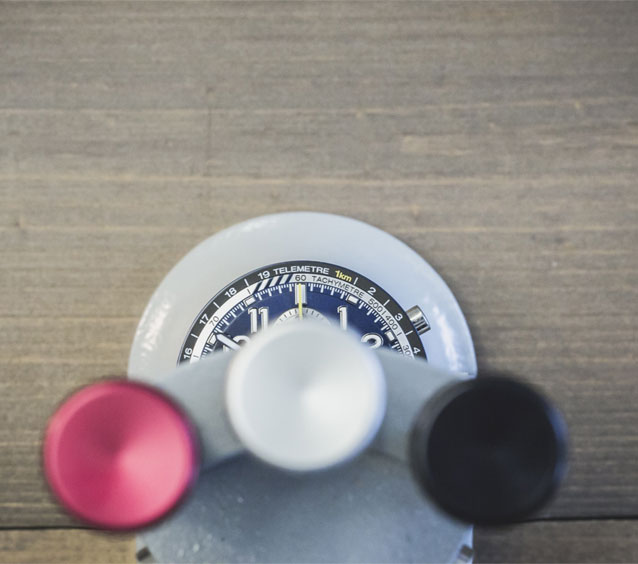 QUALITY CONTROL
To guarantee the highest quality standards, AVIATOR collaborates with the most skillful suppliers and establishes its own testing and quality control procedures. Each part undergoes several rigorous tests and only the parts that comply with the highest quality criterion get transferred to the assembly workshop. There, each watch is further tested for performance, water resistance, and visual tests for flawless functionality and aesthetics. Additionally, each automatic watch undergoes a precision testing with special equipment and must pass five different stages to pass the high standards of durability and wear.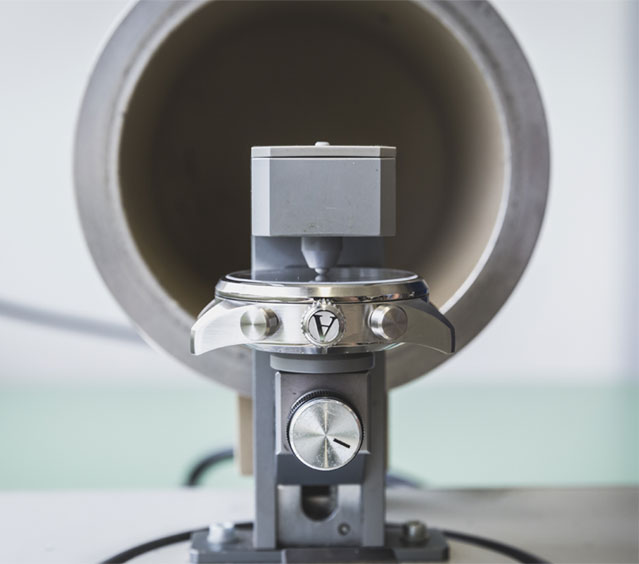 SUBSCRIBE TO OUR NEWSLETTER